Referrals
Reward shoppers for sharing the (brand) love with referrals
Getting more repeat purchases isn't the only benefit of using Smile for loyalty. Gain an added bonus of acquiring new customers when shoppers refer their friends to your brand.
Get Started
Good for your customers, better for you
Share
Existing shoppers can earn rewards for each friend they refer.
Join
Shoppers who place an order from a friend's referral get a reward, and you get new customers—it's a win-win.
The best rewards for completed referrals
You can choose from many types of rewards to create the most engaging referral program, including:
Percentage discount
Amount discount
Free product
Free shipping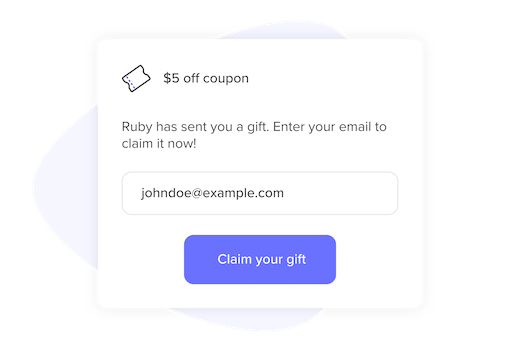 Make referral rewards easy to access and easy to redeem
Keep referrals top of mind for shoppers—whether they're on your site, or in their inbox. Promote referrals with Smile integrations like Klaviyo and Mailchimp, so you can embed unique referral links in every email you send.
Encourage sharing through the channels your customers use
Customers love to shop and share brands right from their phone, so Smile gives mobile shoppers all the top sharing options.
Learn more
The Ultimate Guide to Referral Strategy
Find out everything you need to know about how to effectively set rewards, customize referral messages, and market your program.
Get The Guide
Ready to build customer loyalty?